Pratisha Chavda
Pratisha was kindly recommended to me for her bridal makeup by a mutual friend, she was looking for a makeup artist who could use their creativity to produce different looks as she had a few events to get ready for.
I met Pratisha about a year before her big day when she had her first trial and she booked me straight away 🙂
I first got Pratisha ready for her pre-wedding photo shoot, she was looking for fresh, summery makeup and bouncy curls to compliment her outfit.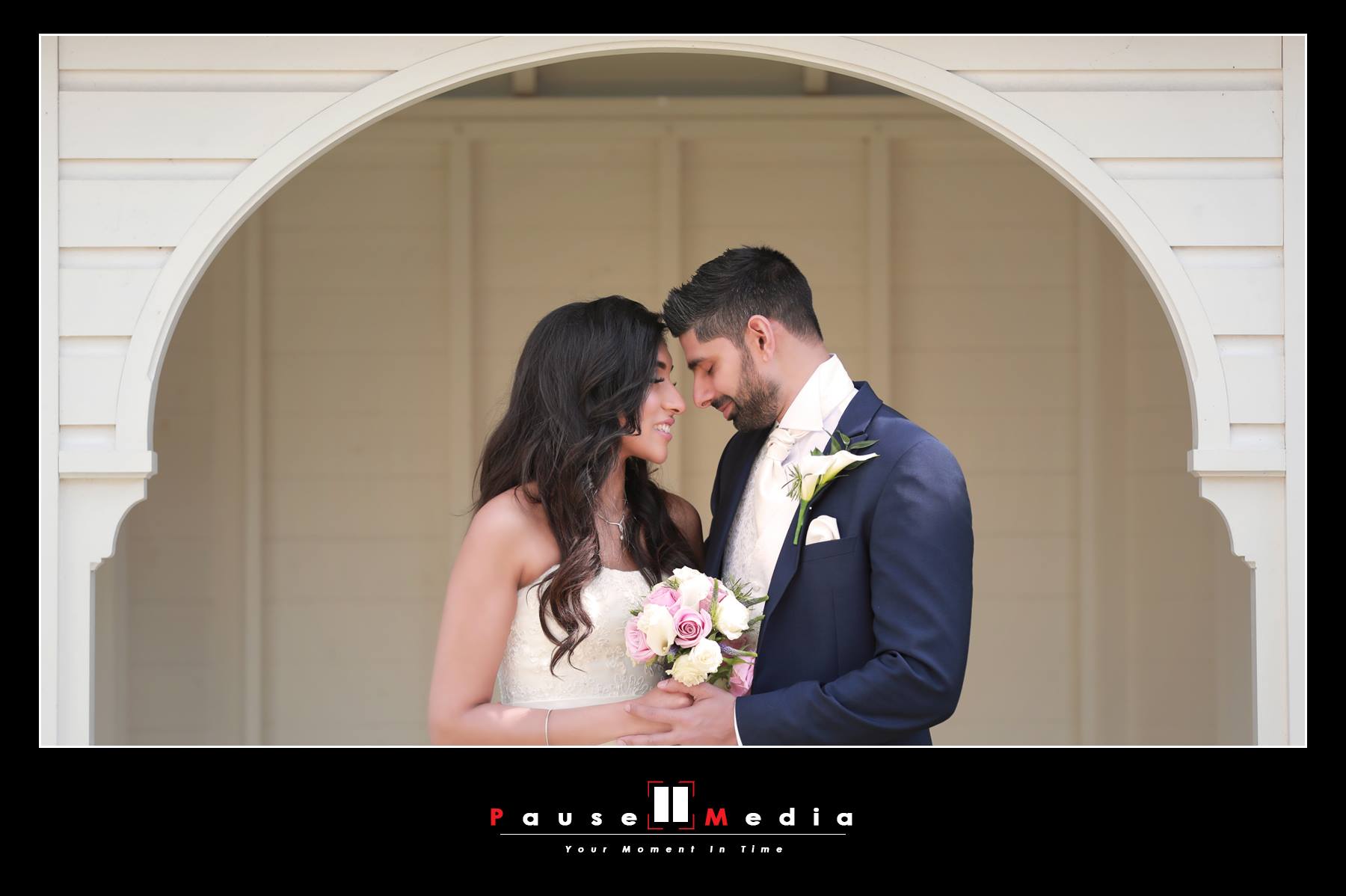 Fast forward a year to April 2017 and I went to see Pratisha again to get her ready for the first of her wedding events.
She was very easy going and felt comfortable enough with me to let me do my own thing, which was great as I was able produce some unique and beautiful looks for her.
Civil look
I wanted to create a simple, yet flawless finish with big fluttery lashes and big curls.
I used –
Makeup forever Ultra Hd foundation with Mac strobe cream underneath to create a natural glow
Mac Blacktrack gel liner, smudged for a softer eyeline
Tarte amazonian clay blush in doll face
Huda beauty lip contour in bombshell for a natural lip
Bombay hair curling wand for big bouncy curls
Sanji look
Pratisha wanted a bright but traditional look for this event so we went for a bright pink lip and a messy braid.
I used –
Inglot matte brown eyeshadow 304 to create a smokey look
Mac pigments for a high shine highlight on the inside lid
The balm, Mary Lou manizer for a golden glow on the cheeks and brow bone
Huda beauty lip contour, video star for a bright pink lip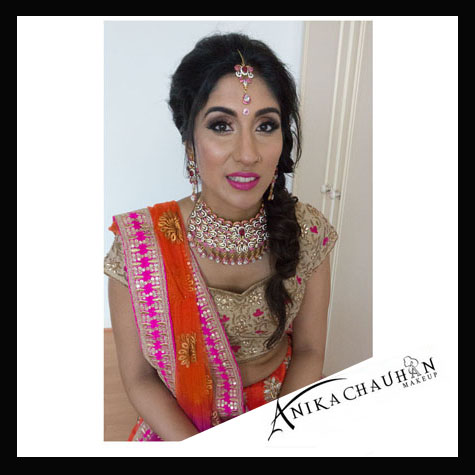 Mendhi look
Loved this colourful, playful look I created for Pratisha on her mendhi night.
I used –
Inglot eyeshadow, AMC shine 10 on the lid with matte 304 on the edges for definition
Mac pigments, emerald green mixed with Mac mixing medium to create a pop of colour under the eyes
Huda beauty nude love in sugar mama for a nude matte lip
Bombay hair curling wand a lots of back combing for big beautiful hair
For this big day, Pratisha wanted a traditional yet elegant look. I created a big but sleek fringe with a low bun to hold her dupatta.
I used –
Makeup forever ultra hd stock foundation which creates a flawless full coverage finish
Ardell individual trios for a full and long lash line
Sephora liquid liner for a dramatic winged liner look
Mac lipstick in Ruby Woo – my favourite matte red lipstick
Reception look
My final look for Pratisha was her reception look, she was slightly unsure what you with her hair so recommended taking her hair up from the front to show off her beautiful outfit.
I used –
Mac blacktrack, blended to create a deep smokey eye
Mac glitter pigment, reflections for a sparkly inner lid
Becca backlight primer for an all over golden undertone
Anastacia Beverly Hills powder contour for a strong contoured face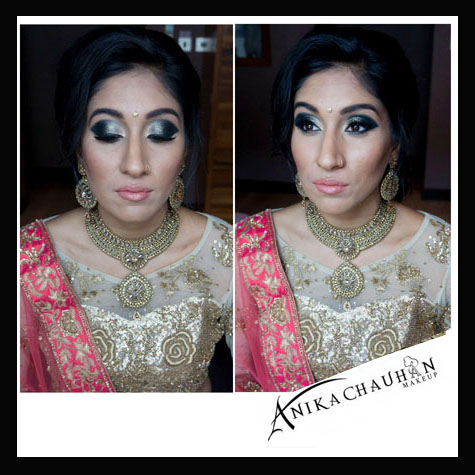 Pratishas testimonial
I was recommended Anika by a bride she got ready a few years ago and then again more recently by a friend so I contacted her and I booked her in for a trial and knew from then I had made the right choice, from arranging trials, to my pre shoot all the way through to my wedding week I found Anika professional , reliable and so comfortable to work with. Every look she created for me was better then I had visioned and had shared with her. Each day amongst the chaos in my house she would focus completely on me, I found her work stunning, creative  and very versatile. For each event she suggested looks that would look good, I trusted her completely and she would only leave me when I was completely ready.  I found her personality calming which is so important when there is so much going on. She would help my sister and mum out with bits when they were getting ready and make sure I was okay at all times. She is more then just a make up artist, she became my friend. She made me look and feel like a princess and I can't wait to have another event where I will need to book her.
Venue and decor- Valley suites, Leicester
Photography & cinematography – Pause media